Quix, an event-driven data engineering platform for building real-time applications, has raised $12.9m in a Series A funding round led by MMC Ventures, with full participation from existing investors Project A Ventures and Passion Capital.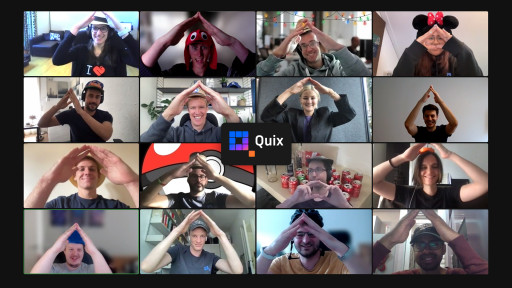 Quix Team Celebrates Series A
Quix Team celebrates Series A
LONDON - November 14, 2022 - (
Newswire.com
)
Having worked in Formula 1, where success is based on a team's ability to make decisions in milliseconds, the Quix founders understand the importance of real-time data. Increasing digitization of enterprise processes and consumer products has made companies awash with data. From wearables and gaming to financial services and e-commerce, more than 2.5 quintillion bytes of data are created every day.
The growing value of processing data immediately has made organizations wake up to the complexity of streaming data technologies, with industry-leading companies often investing three to five years to build in-house capabilities.
Quix has developed a high-performance, scalable platform that solves a clear business challenge: processing data in real-time to derive actionable insights. It empowers organizations to build data apps in weeks rather than years by providing dev teams with the tools, infrastructure, and integrations they'd otherwise have to build themselves.
Core to Quix's innovative strategy is a modular architecture, meaning that customers are not locked into any cloud vendor, infrastructure, or technology. The team has also made an intentional choice to focus on Python - a language that supports deeper analytics, machine learning and automation use cases.
With the new funding, Quix plans to grow its team to accelerate investments in product, partnerships, community and open-source initiatives. 
Mike Rosam, Co-Founder at Quix, said: 
"Many companies are struggling to combine raw technologies into real-time data capabilities. Whilst this is possible for the world's leading tech companies, most struggle to find the talent and time to deliver real-time applications. This new capital will fuel our mission to simplify event-driven data engineering so that more companies can build modern data-intensive apps. We're hiring across the product and market teams to accelerate our journey - check out our careers page to come with us."
Oliver Richards, Partner at MMC Ventures, said: 
"We have been doing an increased amount of research in the data infrastructure space; it is clear that there is a growing demand for real-time streaming data, both across consumer and B2B use cases. When we first met Mike and the Quix team, it was clear that they deeply understood this challenge from their time at the McLaren F1 team, where they built streaming technology to feed race car data from the track to the analytics team. Given our relevant experience in the space (with Snowplow and Ably in particular), Quix is a fantastic addition to MMC's portfolio, and we are excited to help them deliver reliable and scalable data applications."
Contact Information:
Mikaela Murekian
Head of Marketing
[email protected]
+44 77 87 573 566
Agnese Sardella
Chief of Staff
[email protected]
+447541286963
Press Release Service by
Newswire.com
Original Source:
Quix Raises $12.9m Series A to Accelerate Event-Driven Data Apps
originally published at Tech News -