originally published at Tech News -
Wearwell Introduces Smart Step anti-fatigue matting to serve more markets than ever before. Industrial and non-industrial users will benefit from Smart Step's solid construction, layflat design and color assortment.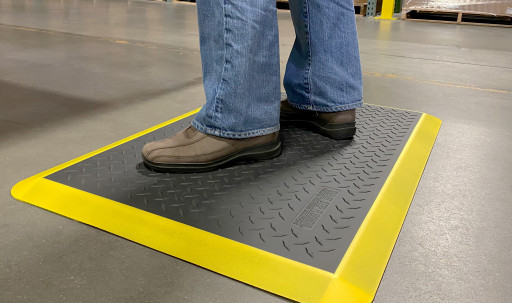 Smart Step Anti-Fatigue Matting
Diamond-Plate Smart Step Anti-Fatigue Matting With Yellow Borders
NASHVILLE, Tenn., February 1, 2023 (Newswire.com) - Wearwell announces the addition of Smart Step anti-fatigue matting by Wellness Mats. 
Smart Step anti-fatigue mats are made in the USA, using 100% polyurethane for durability, resilience, and long-lasting comfort. Unique from traditional sponges, ergonomic mats made using polyurethane offer greater wear-resistance, resilience, and overall durability. Smart Step mats are manufactured in a single process creating molded bevels that are guaranteed to lay flat. The quality material and solid construction make Smart Step mats ideal for standing workstations and sit-stand desks. 
Smart Step is available in different surface patterns and colors to appeal to both industrial and non-industrial environments.
For manufacturing and distribution, Smart Step is available in an easy-to-clean smooth surface or a higher-traction diamond-plate pattern. Unique to Smart Step, these mats are offered with yellow borders on all four sides for safety and visibility. To reduce mat movement, Smart Step matting has the option of a dual-grip base to keep mats from sliding out of place on hard, slick floors. 
For commercial, retail, hospitality, and home use, Smart Step is available in contemporary colors that coordinate with those commonly used in interior design. The color palette, smooth finish, and clean lines have broad appeal in markets where aesthetics is as equally important as standing comfort.
"We are proud to offer a premium urethane mat to serve customers both at home and on the job," says Taunya Swandal, Director of Marketing for Wearwell. "Smart Step workstation mats are the perfect addition to round out Wearwell's line of quality anti-fatigue matting."
Contact Information:
Taunya Swandal
Marketing Director
[email protected]
615-254-8380
Original Source:
Wearwell Announces Smart Step Anti-Fatigue Matting by Wellness Mats
originally published at Tech News -